Depth Measurements to Estimate Silting in the Channel Reservoir of the Tuyamuyun Hydro Complex on the Amudarya River
CAWEP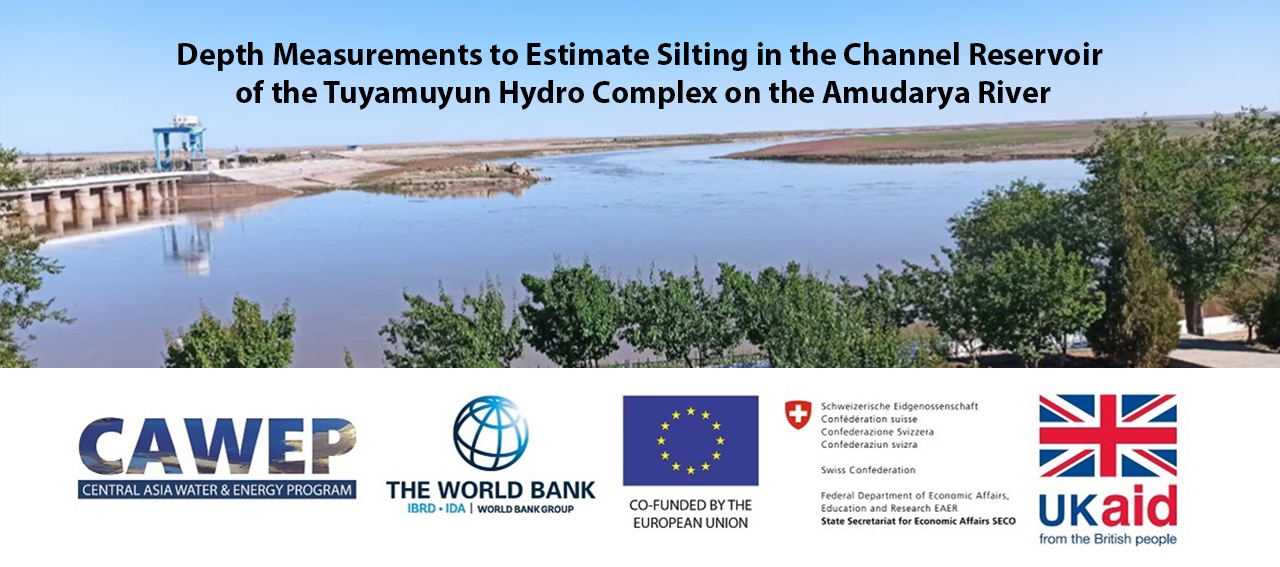 Background
The Tuyamuyun Hydro Complex (THC) is located on the boundary between the Amudarya midstream and downstream; its primary purpose is to:
Regulate seasonal flow of the Amudarya waters for the benefits of all water users in the river downstream including agriculture, municipal and industrial use;

Provide guaranteed withdrawal of water into irrigation systems and reduce sediment load carried into the right bank and the left bank canals during water withdrawal;

Store low-mineralized water in the Kaparas reservoir for its subsequent use to meet needs of the downstream population in drinking water.
The THC includes the Channel reservoir and three off-stream reservoirs, i.e. the Kaparas, the Sultansanjar and the Koshbulak reservoirs. Over 40 years of the THC reservoirs operation their design parameters have changed substantially. The quantity of sediments in the Channel reservoir has exceeded the design values. The live storage capacity of the Koshbulak reservoir has been lost because of occurrence of landslides in the connecting canal. Some losses of the Koshbulak + Sultansanjar live storage capacity have been due to seepage of the Sultansanjar reservoir dam; therefore, the design water volume cannot be stored in the reservoir basins. The Kaparas reservoir is primarily used for storing high quality water for drinking purposes, thus imposing certain restrictions on the control regime of all reservoirs. The need to fill the Kaparas reservoir during the water stress period (July-August), especially, in the years with low water, combined with insufficient throughput capacity of the Sultansanjar spillway system, drastically reduces the possibilities for meeting the needs of the downstream in irrigation water.
Besides, there are losses of water from the reservoirs by seepage and evaporation amounting to 1,100 mln m3/year when the reservoirs are full.
For this reason, especially, during the dry years, the main task of the upstream regulation of the THC reservoirs is to use existing storage capacity for accumulating water resources to the maximum extent possible and allocate these resources efficiently and in proportions during the water stress periods.
On the proposal of the Ministry of Water Resources of the Republic of Uzbekistan (MWR) and the Turkmenistan State Committee for Water Resources (SCWR), at the first meeting of the Regional Steering Committee held on October 27, 2020, the Tuyamuyun Hydro Complex was selected as a demonstration project under the EU project on Central Asian Dialogue to Promote Intersectoral Water-Energy-Food Financing (Phase II).[1] The task of the demonstration project was to estimate sediment build-up in the THC Channel reservoir that led to losses of its live storage capacity. Sediment build-up in the THC Channel reservoir reduces operational capacity of the off-stream reservoirs (Sultansanjar, Koshbulak and Kaparas) to meet irrigation needs of Uzbekistan and Turkmenistan.
Project objective: to conduct depth measurements and estimate sediment volumes in the THC Channel reservoir, prepare forecast estimates of silting and develop recommendations for optimizing reservoir operation modes with the aim of reducing sediment volumes with application of innovation solutions relating to utilization of removed sediments.